project11:Frontpage
From rbse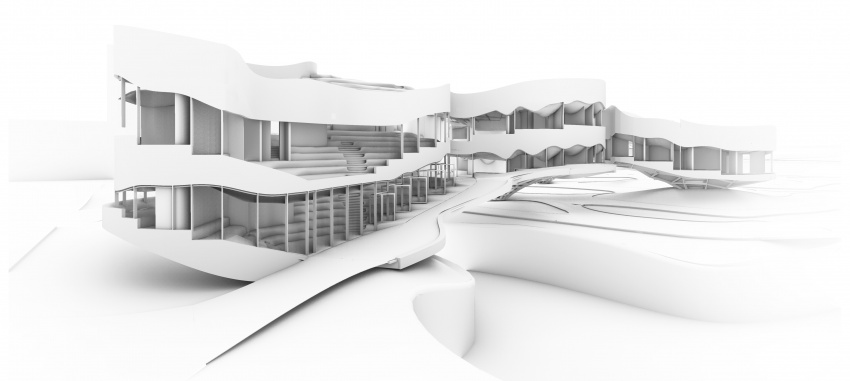 Maximized Space Usage
Adaptable and interactive housing integrated with public and semi-public spaces

Project Theme: SMART Environments
Project Location: TU Delft Campus
Project Vision: To provide a combination of maximum space usage, comfort level and flexibility of the space to serve multiple functions
The project site is located on the main street of the TU Delft campus. University buildings, including sports and culture facilities; public transportation, railway station and highway can be easily accessible. Neighbouring site is the Green Village, a plot that will host different innovative activities in the future. This site also can be regarded as a junction that will connect TU Delft campus and Technopolis.
The project is a hybrid of residential building with working and studying facilities. The hybrid of working mixed together with housing was chosen due to the increased number of people working from home, proximity of the TU Delft Campus, where additional study space is needed; and to reach the goal of the project - to minimise unusable space of the residential complex during the day and night time. This concept will help to reduce the rent, by providing a possibility to share space; inhabitants will be able to customise their space according to their preferences (make it more open or private). This will lead to more social and interactive environment.
To minimise unusable/unoccupied space in the project, movement of the people within the building and its site, will be taken into account during the design process, The site entrances and circulation within the site will be determined after running a simulation of a swarm behavior of agents approaching the site (everyday activities of the different groups of residents will be studied to create different classes of agents).
Orientation of the sun, wind speed and direction, together with site topography will be analyzed and taken in consideration at this step, to fit the building within its environment in the optimized and efficient way. 3D diagram of the buildings main public and semi-public spaces will be created in Grasshopper. Then it will be imported as a set of attraction and repeller points to Open Processing, where a simulation of different groups of agents traveling between these points as a swarm will be performed. This simulation will help to achieve an optimized layout of the spatial arrangement within the building, based on the agents paths. Each group of agents will move with its own speed, and different factor and radius of attraction towards different spaces. This will result in some of the agents being more likely to wounder between different spaces and other arriving to their destination and staying there.
Parallel to the studies of the people flow within the site and the building, another study will be performed on ergonomics of the space needed for certain activities. That study will help to create optimized apartments, where places will be specially designed for different activities that can be carried out while walking, standing, sitting or lying down, and with a different need for privacy. When the schematic shape of the building (macro scale) will be created as a 3D parametric model , it will be combined with the studies performed for the different types of apartments (meso scale). Then further studies will be carried out on the materials, technical solutions and sustainable strategies (micro scale).
Reference projects

Re-configurable apartment by Gary Chang

Architect Gary Chang in his apartment in Hong Kong, by applying sliding wall system and folding and compact furniture, made it possible to accommodate 24 different functions within 32m2 space.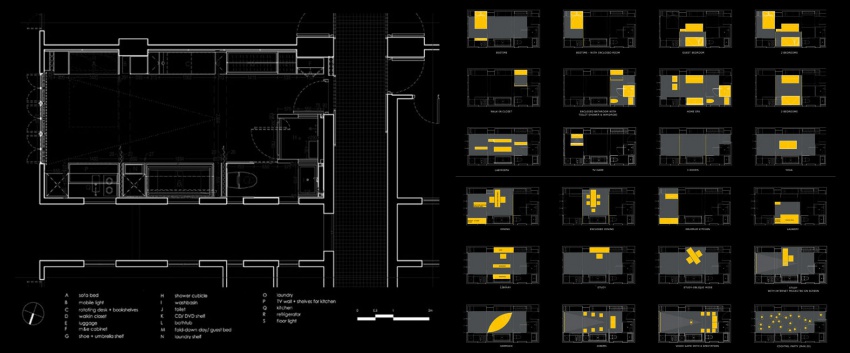 Figure 3



Figure 4


Negotiate my boundary by RAMTV

This project provides a possibility for its users to decide what kind of relationship they want to have with their neighbors.
References

Figure 1:
http://www.ruimtelijkeplannen.nl/documents/NL.IMRO.0503.BP0019-1001/t_NL.IMRO.0503.BP0019-1001.html
Figure 2:
http://duwo.studentenwoningweb.nl/Eenheiddetails/300035022
http://duwo.studentenwoningweb.nl/EenheidDetails/300019739
http://duwo.studentenwoningweb.nl/Eenheiddetails/300035119
Figure 3:
http://www.designboom.com/architecture/gary-chang-on-urbanism-and-his-metamorphic-apartment/
Figure 4:
https://www.pinterest.com/pin/445223113132213811/
Figure 5:
RAMTV, Negotiate my boundary!; 2nd edition, May 2006
Figure 6:

RAMTV, Negotiate my boundary!; 2nd edition, May 2006